MIMORIADNE SPLÁCANIE HYPOTÉKY
Splácate svoju hypotéku, napriek tomu sa vám darí, popri vašich životných nákladoch, odložiť niečo "bokom". Čo s takto ušetrenými peniazmi robíte? Sporíte, alebo splácate mimoriadnymi splátkami svoju hypotéku rýchlejšie? Zamýšľali ste sa niekedy nad tým, čo je výhodnejšie?
Martin si pred štyrmi rokmi zobral hypotéku na 30 rokov. Dnes je jeho zostatok úveru 80 000 eur s úrokom 1,5 %. Jeho pravidelná mesačná splátka hypotéky je 310 eur.
Martin je však schopný, popri svojich životných nákladoch, ušetriť každý mesiac ďalších 200 eur. Čo je pre neho výhodnejšie? Splácať mimoriadne hypotéku alebo ušetrené peniaze investovať?
Ak by Martin použil tieto peniaze na mimoriadne splátky hypotéky, svojej hypotéky sa zbaví úplne o pätnásť rokov. Za toto obdobie zaplatí banke celkovo 89 400 eur.
Ak by však Martin tie isté peniaze investoval, s ročným zhodnotením na úrovni 6 %*,svojej hypotéky sa zbaví už o štrnásť rokov. Nielen že svojej banke zaplatí iba 85 680 eur, ešte mu aj na účte zostane viac ako 8 000 eur.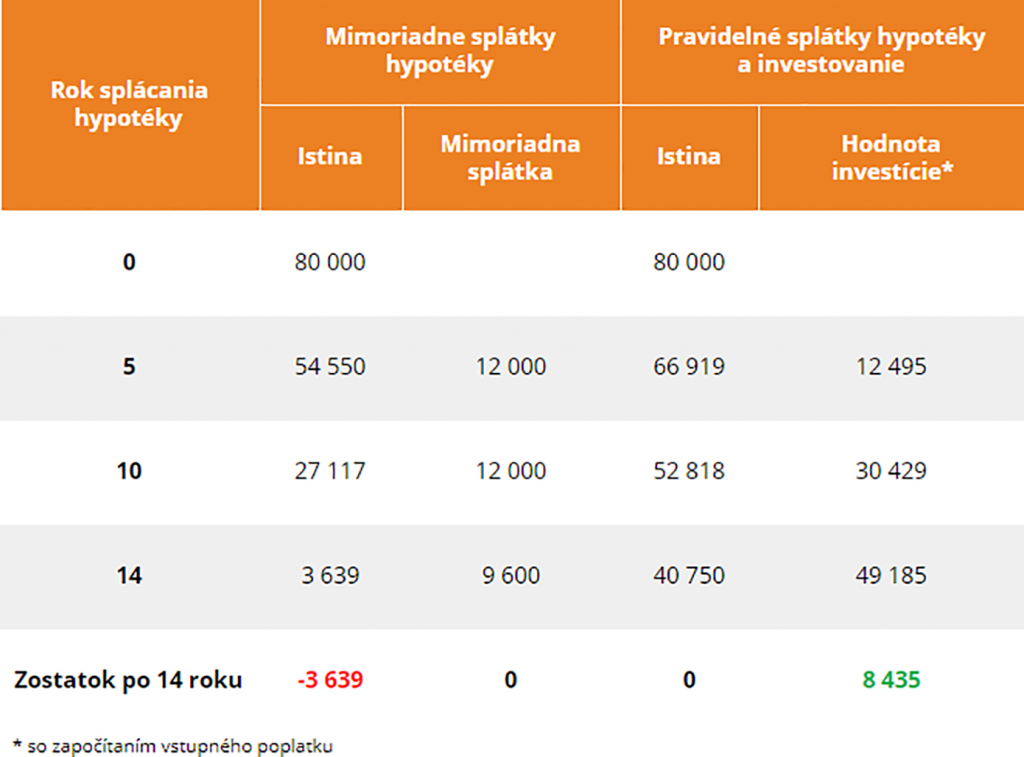 Darí sa aj vám, popri bežných výdavkoch a pravidelnej splátke hypotéky, ušetriť niečo navyše? Ak týmito peniazmi splácate svoju hypotéku rýchlejšie, nekonáte najrozumnejšie.
"Z finančného hľadiska má väčšiu logiku zaplatiť banke čo najmenej za čo najdlhšiu dobu a ušetrené peniaze investovať," hovorí Martin Bittara, riaditeľ kontaktného centra v spoločnostI fingo.sk "S takýmto prístupom si postupne budujete finančnú rezervu, ktorú viete použiť buď na predčasné splatenie celej hypotéky, alebo v prípade mimoriadnych okolností, ako sú napríklad choroba alebo strata zamestnania, ich jednoducho použijete pre seba."
"Navyše," pokračuje Bittara, "ak vy rýchlejšie splácate svoju hypotéku, zbavuje sa niečoho, za čo platíte 1,5 % až 2 % ročne. Pritom máte možnosť zarobiť na tých istých peniazoch 5 % alebo aj 10 % ročne. Na to netreba veľkú matematiku, aby človek pochopil, že tie isté peniaze, ak ich investujete, vám zarobia omnoho viac, ako by vám ubrali z dlhu."

"Dlh je dnes veľmi lacný, preto mimoriadne splátky nedávajú zmysel," myslí si Bittara a upozorňuje: "Nemusí to tak byť vždy. Keď sa úroková sadzba na hypotéke zvýši a bude približne rovnaká ako výnos na akciách alebo inom zhodnotení, vtedy by asi bolo výhodnejšie splácať svoj dlh. Faktom ale zostáva, že ak to budete robiť, stále si nebudete tvoriť žiadnu rezervu pre seba alebo svoju rodinu. Z finančného hľadiska ste na tom lepšie vtedy, ak máte dlh a popri tom aj finančnú rezervu, ako mať dlh, síce menší, ale žiadne úspory."
Finanční odborníci sa jednoznačne zhodujú v tom, že najlepšie, čo môžete urobiť z hľadiska ochrany seba alebo svojej rodiny, je dohodnúť sa s bankou na čo najnižších splátkach. A ak vám vaša životná situácia dovoľuje ušetriť mesačne hoci aj menšiu sumu peňazí, nedávajte ich späť do banky vo forme mimoriadnych splátok. Šetrite ich a zhodnocujte. Omnoho väčší zmysel  má šetrenie popri hypotéke, ako jej predčasné splácanie. S takýmto prístupom si postupne budujete finančný majetok, o ktorého použití rozhodujete iba vy sami.
Myslite na budúcnosť a nechajte svoje peniaze zarábať pre vás. V našom online porovnávači nájdete 8 bezpečných a výhodných spôsobov investovania. Začať môžete už dnes. Pravidelným šetrením, hoci aj menšej sumy peňazí, bude váš majetok rýchlo narastať. S výberom vhodného spôsobu investovania vám, na základe vašich osobných preferencií, radi pomôžu naši investiční špecialisti.
*Priemerný ročný výnos najznámejšieho akciového indexu S&P 500 za poslendých 10 rokov je 8,38 %.
Autor: Magdaléna Dorčáková